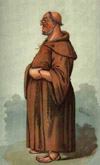 The earliest records of inhabitants on Isla Esperanza goes back to the 14th century, when a brave man, seeking the paradise in the believe that is must be on earth, landed on the east beach of Isla Esperanza. After a first walk around and across the island, Brother Delirius was convinced that he has found the paradise. And in the praise of God, he founded a hermitage near a hot spring. He chose that spot 'cause it was there, where he first met a wild donkey. And because the donkeys had not made bad experiences with humans yet, the first encounter was filled with mutual wondering and good minded interest. The place is nowadays known as the beautiful village "Etere Nalpeace", situated in the soft rolling hills on the west coast opf the island.



Roughly at the same time, some of the other islands of the archipelago have been explored and fisher men and their families have settled there. It took only a few decades until the trade between the islands and their inhabitants was established on a daily base.

Old writings and maps found by archeologists in various spots on the island show a lot of sketches and drawings that have not yet been explained satisfactory. Men that seem to fly (Bird Island), advanced seafare instruments and celestial navigation techniques (Mogador), and a whole lot of silver and bronze coins (Saint Tim's), to name just a few.